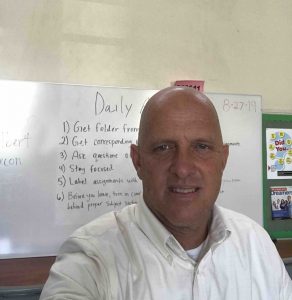 I attended Van Nuys Elementary, Van Nuys Jr High, and Van Nuys High School (class of 1986). My most memorable experiences as a student were formed around sports and the wonderful athletic programs LAUSD offered. I made lifelong friends and played together with all types of people to represent the mighty Wolves of  Van Nuys. My love was basketball and I had wonderful coaches who taught me skills for both on and off the court. Our teams were multicultural and multiracial. We played together and made the city semi finals three times.
My teachers  were amazing. All were open minded and committed to seeing me do well. I always remember the staff at Van Nuys mirrored the student body in terms of race and culture. This exposed me to the value of our diverse world. I cherish that and realize I was lucky to have that experience.
There were challenges too. It was a school where you had to learn to "swim" or you would "sink." It was like the real world and I am forever grateful for learning to "swim" at my public school.
Today, I teach at Westchester-Emerson Community Adult school in Westchester. I have never worked for anyone else in my life except LAUSD. I started working for Youth Services in 1986 as a Playground Supervisor at elementary schools and I supervised the gym for open play at Van Nuys High School. I did all this during my first two years of college at Loyola Marymount University.  My last two years at at LMU I was a Teachers Assistant at Westchester-Washington Community Adult School.  After I graduated from LMU, I continued on at the Adult School and I have been an instructor there since 1990 I have taught a high school diploma lab where i prepare students for the GED and offer individual assistance for high school credit courses. During my time at the Division of Adult Education (DACE) I have worked at Westchester High, Fremont High, Venice High, Harbor Occupational Center, Venice Skills Center, and Emerson Learning Center.
My most memorable experiences were those attached to the wonderful students who I have had the pleasure of getting to know. The Adult Education program in Los Angeles is one of a kind. It is low cost and in most cases FREE. It allows people a second chance. Some times the second chance is for someone born in this country, but many times it is for an immigrant who cherishes the opportunities of an LAUSD education. I have had the chance to watch people go from not speaking one word of English to inviting me to their University graduation. There has also been times where people go from incarceration to skilled employment all because LAUSD was there to support them. I have truly enjoyed the platform that LAUSD has put in place that allowed me to witness so many success stories.  My favorite part of my job has always been Adult School graduations and the amazing speeches that tell individual stories of struggle and success, stories that are very much a part of Los Angeles and the United States.
There have been challenging times along the way too.The gang violence of the 80's and 90's took some of my students lives and put some of them in jail for life.  There were lockdowns and gang altercations in the classrooms.  There were shooting on campuses and I even helped disarm an armed student. Times have changed and many of the campuses in LAUSD have thankfully become friendlier places.
As a teacher I have had the pleasure of spending 30+ years with amazing colleagues who all decided they wanted to make a difference. None of us got into it to become rich. We loved changing peoples lives and LAUSD allowed us to do it and have a fairly middle class existence. We all fought the through the grind of teaching in an urban setting and found a wonderful profession. We became family as we guided people through their educational journeys. Together, we have also always had a voice in the direction of the LAUSD because of our professional expertise and our labor unions.
The Emerson campus is my second home. In my time here, I have seen generations of families use what LAUSD has offered them. It has been a place where students have banded together to fight to keep the school open and fight to open needed classes. This has always united the community and the neighborhood. It is somewhere that people of all ages could enjoy. We offered everything from mommy and me classes to classes for senior citizen fitness. It was a place everyone knew.
Public education shaped me as a student and as an adult. It has always been something that levels the playing field and and brings a certain amount of fairness to society. It is the great equalizer. It brings people up and allows them to fend for themselves. It is the best investment that any government could ever make.  We need to defend it because the other options leave people out and make it more difficult for individuals to bring their families into the middle class. Public education is not only valuable for individuals but our communities, great city and state, and the world.
Here are some articles related to my teaching and school: